July 19, 2022 - ASIC regulated multi-asset online trading provider ACY Securities has announced the winner of its popular Trading Cup Trading Contest. The real-money contest offers a $1 Million prize pool distribution across the top 5 placed traders over 1 year of trading. The contest ran from July 2021 to June 2022 with the winner announced at the recent ACY Securities Gala Event which also coincided with ACY's latest office opening in Melbourne Australia.
The top 5 placed winners dominated the other 1200+ traders, with gains ranging from 43.19% to as high as 101.59%. The determination of the winner took into account various factors including ACY's Money Manager Ranking (MMR) algorithm with advanced machine learning and artificial intelligence as well as on a set of metrics including profitability, risk management, long-term stability, risk-adjusted returns and draw-down levels.
The overall 1st place winner was awarded to Riadh Debbabi. His gain was an impressive 80.65% with a drawdown of -4.01% resulting in his final balance of AU$325,239.91. Debbabi achieved this win by trading the EURUSD currency pair using an algorithmic trading strategy via an Expert Advisor (EA).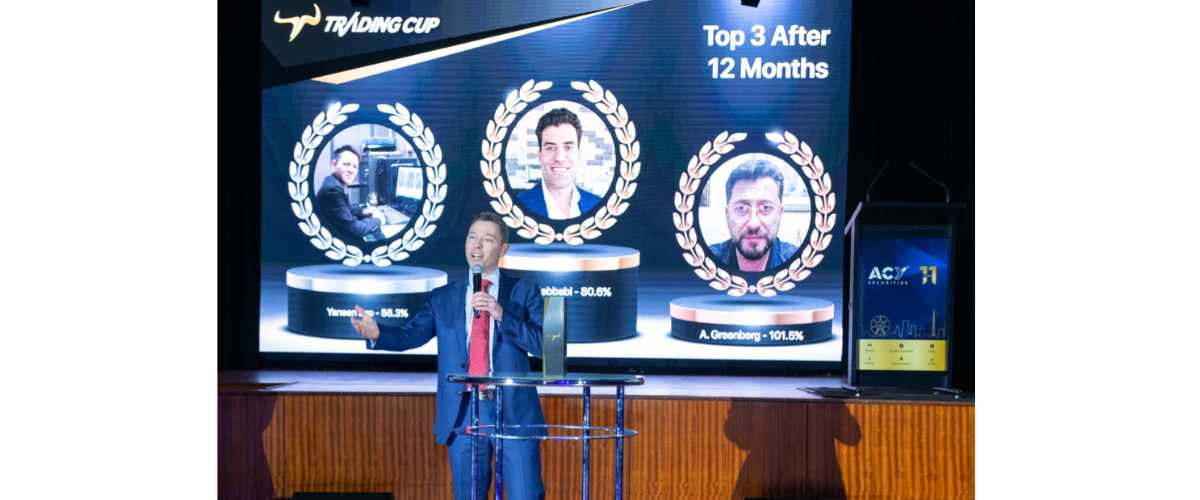 Ashley Jessen - Chief Operating Officer at ACY Securities. Behind from L to R: Yansen Jap, Riadh Debbabi, Alexander Greenberg.
Riadh Debbabi said "In my opinion, sticking to the strategy and removing any emotions from the trading, which I believe is one of the biggest challenges that traders face Is just a small part of the equation. Managing risk is definitely the biggest and most important part for me."
Henrick Rajamountry - Head of Marketing at ACY Securities said, "What an amazing result by Riadh to take out the top spot in our Trading Cup Trading Contest. We created the Contest to provide traders and fund managers the platform to showcase their trading skills and strategies as well as to foster a community of traders who are able to see and learn from the in-depth statistics of other traders. We continually develop and improve the Contest to add more features which add even more value for all the participants. Our latest iteration is the Pip Hunter Trading contest which runs from 1/7/2022 to 31/12/2022."
Ashley Jessen, Chief Operating Officer at ACY Securities added, "Every year the Trading Cup evolves to find the best of the best. This year, 70% of the top ten leaderboard traded their strategies using algorithmic methods (trading robots), with the winner placing over 82,000 trades and turning over $425 million on the Eurodollar currency pair. With competitors from 75 countries around the world, the Trading Cup continues to be the number 1 trading contest in the world."
Traders wanting to highlight their skills, or fund managers wanting to showcase returns and attract new investors, are invited to enter the Pip Hunter Trading Contest at www.tradingcup.com.
*Australian residents are not eligible to receive prizes under Australian law (ASIC). If an Australian based trader achieves a position in the Top 5, they will receive a Certificate of Trading Excellence. Please see our T&Cs for further details.