November 23, 2022- ACY Securities, a tech-focused multi-asset CFD broker, has sponsored the ACY NSW Table Tennis Open Championships held at Sydney Olympic Park Sports Halls from 19th – 20th November 2022.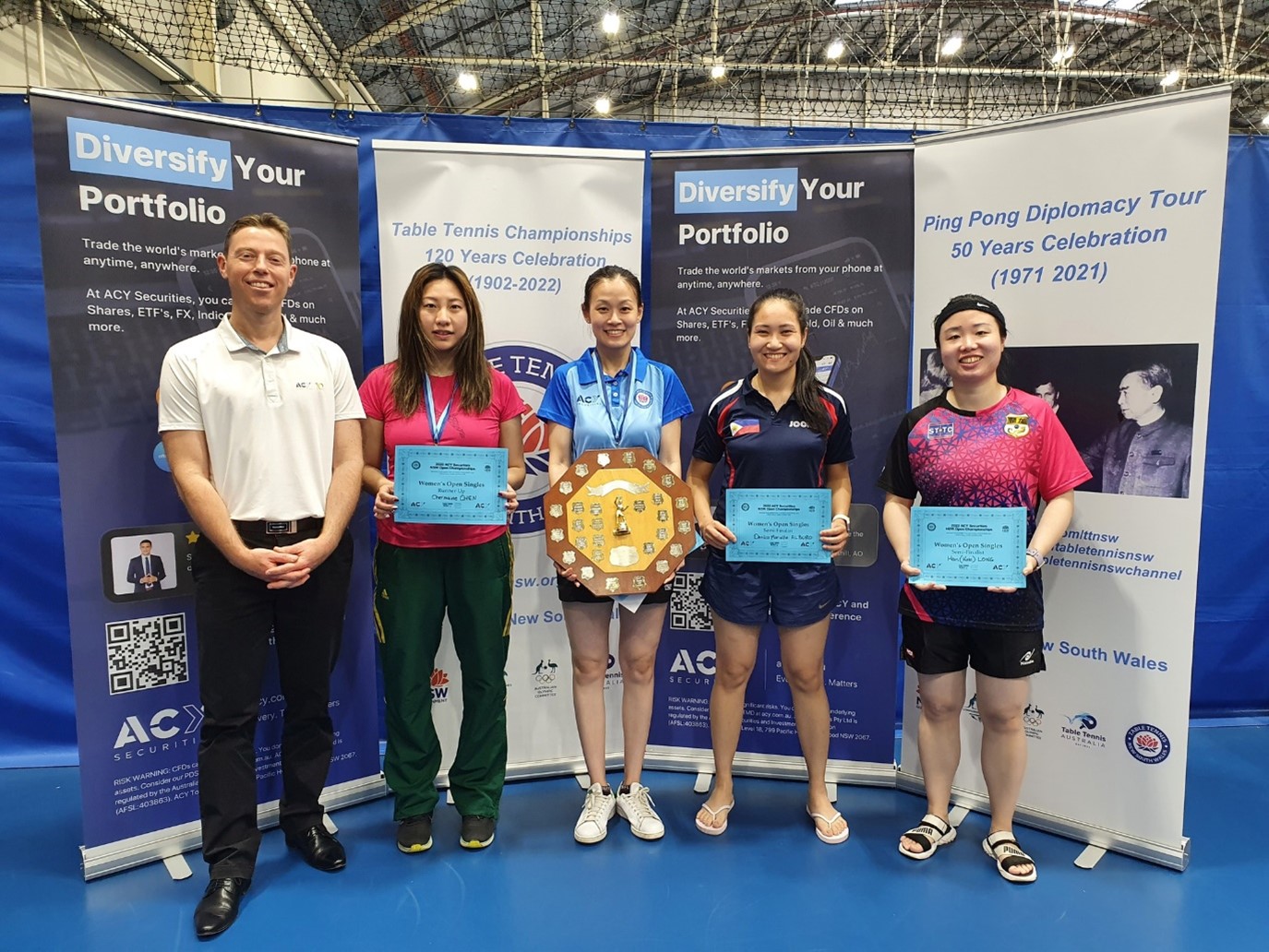 This latest sponsorship is part of the wider two-year sponsorship agreement with Table Tennis New South Wales (TTNSW) announced earlier this year here and is in line with ACY's continued support for local and national cultural events, sporting and community organisations.
Ashley Jessen, ACY Securities COO said, "It was a true privilege to award the NSW State Champions for the Open Men's, Women's, and Under 21 titles. The talent of all players was incredible, and I was fortunate enough to watch both the Men and Women's grand finals. When you watch the best of the best play, you begin to realise the immense skill and talent of the players, not to mention the dedication to honing those skills over 10+ years."
All NSW Open champions had to overcome a series of intense matches leading up to the Grand Final, including 3 rounds, which were a best of 7 eliminations.
The Grand Final saw the tension build, with their coaches and support crew cheering on for each point won. At this level, nothing is left to chance, as each competitor threw everything they had at it.
In the women's final, it was Tracy Feng overcoming Chermaine Chen 4 to 1 in an extremely close series of games. In the men's final, TA Yeo claimed the victory in a dominating display of power table tennis over Daiki Shimojo, who is one of the more consistent players on tour.
"It was great to hear the feedback from the winners and their support team, who were thankful for the increase in prize money provided by ACY, recognising their wins. And it was quite the historic time to be crowned champion, as Table Tennis NSW celebrates its 120th year, playing since 1902." Added Jessen.
The results of the championships are below.