The following s a guest opinion piece by Andrew Lane, CEO of Acuity Trading
February 28, 2023 - As 2022 gives way to 2023, the Russian invasion of Ukraine continues. With the resultant sanctions on Moscow, Europe is in the midst of an energy crisis that eased only because the winter was less severe than feared. Europe depends on gas supplies for over 30% of its electricity and is the world's largest gas importer. Before the invasion of Ukraine, 40% of the EU's gas supplies were sourced from Russia. The International Energy Agency (IEA) estimates that the continent could face a gas shortage equivalent to 7% of its annual consumption.
European governments took measures to cut down their electricity consumption, including statement events such as turning off the lights on the Eiffel Tower an hour early and putting the public fountains in Milan to rest. However, these measures could hardly spark a light at the end of the dark tunnel. According to the IMF, if European governments let the crisis run its course and merely cover the projected increase in energy costs, they would end up spending €1 trillion, which is 6% of the EU GDP.
Are EVs a solution to what ails the European energy markets or are they aggravating the problem? Let's take a look at the market dynamics.
Chugging Up a Steep Road
Demand currently remains robust, with EVs accounting for more than 13% of new car registrations in 2022. However, rising energy costs are a headwind to EV sales. This doesn't help the cause, especially since EVs are already on average 36% more expensive than petrol cars. Apart from environmental concerns, buyers are often motivated to bear this price difference due to promising cost savings in refuelling and servicing these vehicles. However, with rising electricity prices, electricity's advantage over fuel has narrowed, and may no longer justify the higher price point. Rising electricity prices to get vehicles charged could deter customers. According to the UK's RAC, the cost of charging an EV using public charge points rose 42% between May and September 2022.
Rising electricity prices also contributes to increased manufacturing costs. Volkswagen brand boss Thomas Schaefer took to LinkedIn in November to say that, unless electricity prices in the bloc were reduced quickly, the company's investments in new EU-based battery production facilities would be inviable.
Need for Speed
EVs are an important tool in the proverbial arsenal in climate-related public policy. The EU's target is to shave 15% off of the bloc's energy consumption by March 2023. The focus has now shifted to consumers of electricity, including Electric Vehicles. EVs remain at the heart of the Brussels Net 0 emission ambition. Between 1990 and 2020, greenhouse gas emissions have fallen across sectors by 32%. However, one sector that bucks this trend is transportation, where emissions rose 7% over these thirty years. EVs are a possible answer to addressing this issue, and the EU plans to stop selling carbon dioxide emitting cars by 2035.
Brussel's dream of an electrified road fleet creates massive opportunities for EV makers. The EU meeting its Net 0 emission target would require sustained growth in EV adoption. Against this backdrop, investor sentiment for EV makers like Tesla and Volkswagen remains positive, as can be seen on Acuity's AssetIQ widget.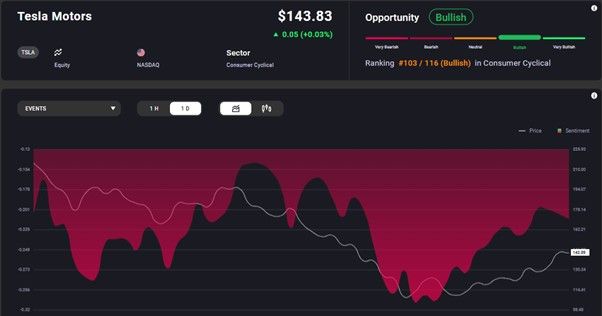 Charge of the Light Brigade
Any growth in EV adoption means sustained pressure on Europe's power grids. Often EV charging cycles coincide with time at home, creating peak demand on power grids. According to Bloomberg, the energy required to charge EVs will represent ~10% of global energy consumption by 2040. Wholesale energy prices have already had a tumultuous year in Europe, with erratic intraday swings, as utilities scramble to keep up with changes in demand and supply shortages.
Technology may find a way. Smart charging uses an AI-powered network between charge providers, EV owners, and electricity suppliers. It helps owners select charging times, sources of power (including renewable sources), and optimise charging cycles. It also helps power suppliers plan and prevent demand from EVs from overwhelming the grid. Smart EV charging could be a €5 billion market in the EU by 2030. Between 2019 and 2021, the investment activity in global smart charging grew fivefold.
Charging infrastructure could evolve with a rise in residential charging. This may be bolstered by the European Commission proposal of making solar panels compulsory for residential units by 2029.
Another technology that could reduce the pressure on European grids is Vehicle to Grid (V2G) charging, which uses EV batteries as storage units. The next-gen EVs could come with bidirectional charging, allowing people to charge their batteries during periods of low demand, and discharge their stored energy into the grid during peak demand. Coupled with smart charging and residential charging, the scope of V2G is immense. The global V2G market is expected to grow at a 46% CAGR in Europe over the next 5 years.
Recharging the Economy
EV sales growth is viewed by some as causing additional pressure on Europe's power grid at a time of record electricity costs and dwindling supplies. There are also concerns around further hikes in energy prices with the reopening of the Chinese economy. However, modern EVs are a part of the solution, rather than the problem, for Europe's energy crisis. They can encourage solar adoption by households, reduce the reliance on fossil fuels, and create additional revenue streams and job opportunities in a slowing economy.
- Andrew Lane, CEO, Acuity Trading