April 11, 2023 - Institutional crypto trading ECN 'Cypator' has announced going live with multiple institutional participants who are utilising the platform to trade crypto spot transactions.  
Cypator is also live with prime broker Hidden Road, which acts as a counterparty to all trades and facilitates both the credit risk and settlement of the transactions. With institutional OTC trading on the rise, especially since November last year, more players understand the importance of managing their counterparty risk and the need to diversify their liquidity sources in a non-custodial fashion. With Cypator's relationship with Hidden Road, the market has opened to indirect credit relationships enabling a much larger trading ecosystem. 
The launch of new OTC Market Makers (Liquidity Providers) and the increasing number of Taker participants in need of a turnkey solution for liquidity access makes an ECN a natural evolution into a model which has been successful in other asset classes, such as foreign exchange. 
Participants can either be Market Makers (Liquidity Providers) providing OTC-type liquidity and enjoying distribution to all, or Takers who receive unlimited liquidity from any connected Market Maker. The Cypator ECN currently supports spot trading on a non-disclosed basis and will expand in the future to support other product types.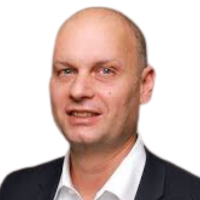 Ayal Jedeikin, CEO and Founder, Cypator
CEO and Founder Ayal Jedeikin commented on the launch, "As an experienced team we looked at the crypto market and identified a gap in the trading liquidity infrastructure. We can now provide our clients with a counterparty who is willing to take on the risk and for a complementary trading solution which leverages that to enable all players to trade with each other in a seamless manner. With Hidden Road we found a best of breed prime broker who is focused on being a 'true' prime broker while we will focus on providing the best institutional grade trading solution." Jedeikin was previously at FX and Crypto trading platform Tradair for 12 years as COO and latterly CEO of the firm, leaving in March 2022. 
The Cypator ECN supports trading via a Front End or via a FIX API. Based on AWS Cloud technology, the technology uses a low latency smart order router to achieve best execution and embeds liquidity monitoring to ensure fair play. 
Michael Higgins, Global Head of Business Development at Hidden Road, commented, "Cypator is a natural addition to the roster of execution venues available to Hidden Road's clients. In providing our clients with credit intermediation across traditional and digital assets, Hidden Road enables our clients to select their own partners and solutions across technology and liquidity. Cypator's team and technology fit well within this partner-first mindset." 
The platform supports multiple execution workflows for spot trading, including undisclosed and disclosed trading as well as prime broker and direct custody-based workflows.