June 02, 2022 - EBS Average Daily Volumes were $64.5 billion up 3% in May 2022 compared with May 2021, but down 2.71% on April 2022.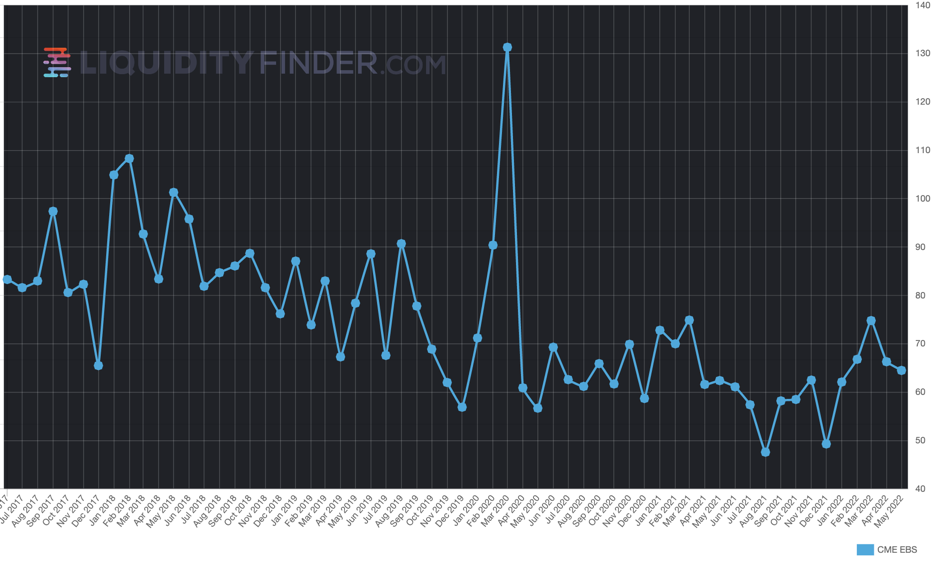 CME's EBS SpotFX ADV June 2017 - May 2022
In G3, EURUSD activity increased its share of the overall volumes in May versus April, with USDJPY activity off a few percent points versus April.
The first week of the month was punctuated with a few days of increased volatility as the FOMC, BOE and RBA all raised interest rates.
While these increases were in line with the majority of the market expectations, this lead to a rush for liquidity and clients utilized the EBS Market Central Limit Order Book (CLOB) during volatile market conditions.
CNH continues to see near record levels driven by the continuation of COVID restrictions in China and following lower volatility levels during the early part of 2022.
NDF volumes on EBS Market remained strong despite several public holidays and remained in line with year-to-date averages.
Jeff Ward, Global Head of EBS, commented on EBS' activity, "In May, EBS Market successfully migrated to CME Globex and EBS Direct migrated to the new next generation EBS Direct 2.0 platform. While it's still early days, we're pleased with both migrations, and we continue to focus on providing support to our clients during this transition."