June 01, 2022 - Bank-owned FX and Precious Metals streaming price provider FXSpotStream has released volume figures for May 2022, with Average Daily Volumes in May at $58.392 billion, an increase of 23.36% on May 2021. (However, in line with a number of other platforms that have now reported for May, volumes were down 4.67% on April 2022).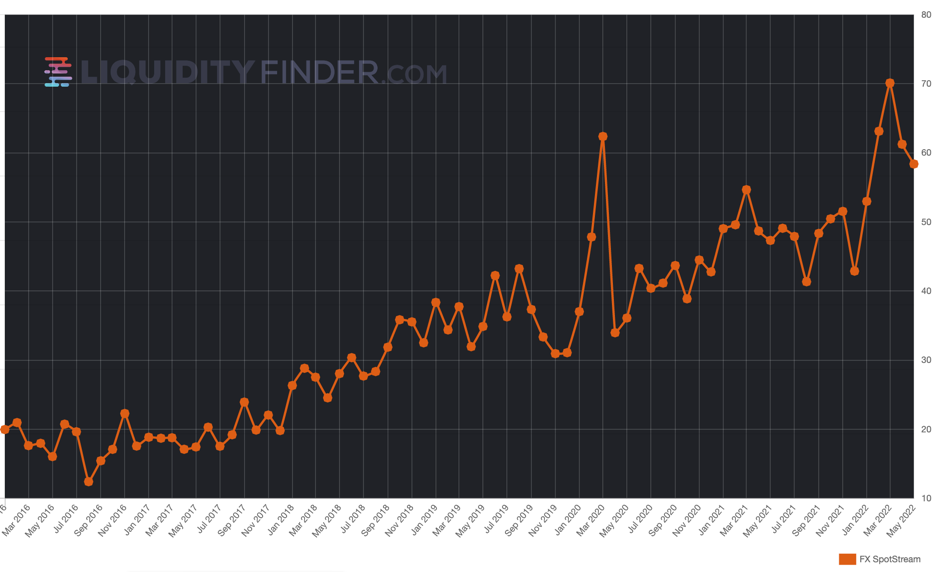 <center.FXSpotStream ADV month by month January 2016 - May 2022
FXSpotStream's overall Volume Year-on-Year (May 2022 vs May 2021) increased 29.23% to $1.285 trillion, the 5th month in a row with supported volume well over 1 Trillion.
FXSpotStream's ADV Year-To-Date (January - May 2022) is $61.298 billion, an increase of 22.70% compared to the same period last year.
ADV figures are based on 22 trading days.
FXSpotStream recently hosted a Bank FX Algo Webinar Series. To listen to all the webinars, click here.
To find out more about the services offered by FXSpotStream, please use the links below.