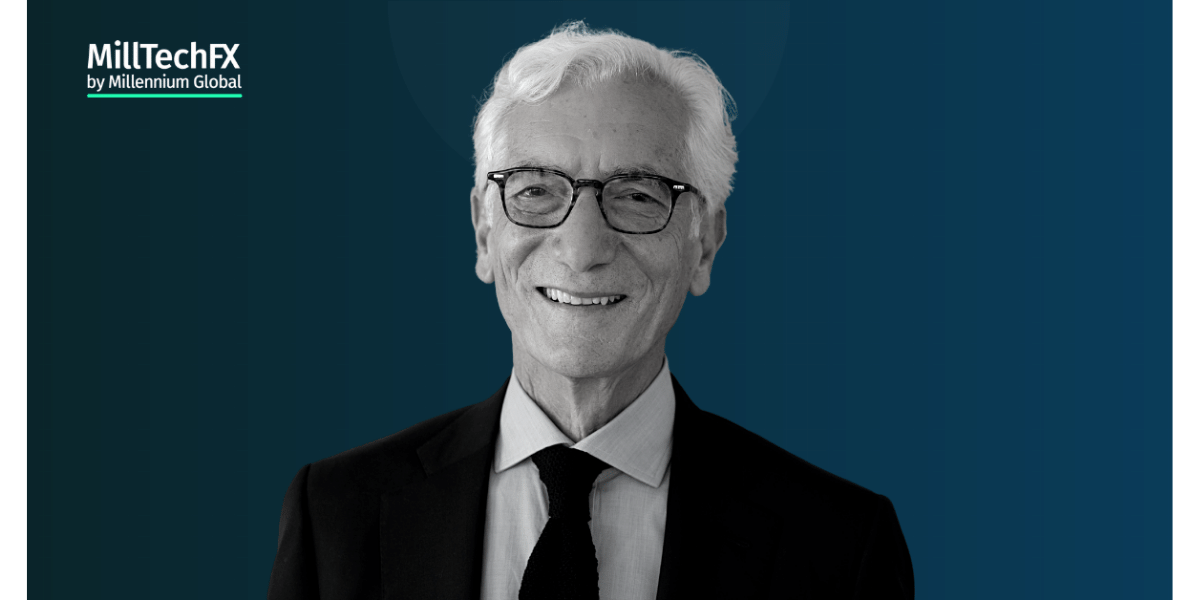 MillTechFX launches with backing from Sir Ronald Cohen
**June 30, 2021 **- Millennium Global, one of the world's largest currency managers, has launched MillTechFX, an independent, comparative multi-bank FX marketplace which reduces FX execution costs and operational burdens, with the backing of Sir Ronald Cohen, widely known as 'the father of British venture capital'.
MilltechFX has been in build mode for the last 12 months, signing up 10+ market making banks to provide rates, bringing their model to market and accumulating client business from asset managers, corporates and institutional investors. MilltechFX says that their clients have traded billions of USD to date, with usage growing every month.
The company sees that their client segment has had no choice but to suffer from significantly overpaying for their currency execution and hedging requirements as well as the operational burden of implementing and managing multiple relationships to seek best execution.
MillTechFX harnesses the purchasing power of Millennium Global, which has 25 years of FX expertise, USD 600 billion in annual FX volume and USD 20 billion in assets under management*, to provide clients with preferential rates from their 10+ counterparty banks, enabling best execution via their platform and outsourced execution services. MillTechFX's counterparty banks include ANZ, Bank of America, BNP Paribas, Citi, HSBC, Morgan Stanley, NatWest, Standard Chartered, State Street and UBS.
Sir Ronald Cohen, who has invested in MillTechFX and joined the international advisory board, is a preeminent international philanthropist, venture capitalist, private equity investor, social innovator, and vanguard of the global impact investing revolution. He was co-founder and Executive Chairman of Apax Partners Worldwide LLC and has chaired numerous global initiatives on impact investment.
Headquartered in London, the world's largest FX hub, MillTechFX is authorised and regulated by the UK's Financial Conduct Authority (FCA), registered with the USA's National Futures Association (NFA) and Canada's Financial Transactions and Reports Analysis Centre (FINTRAC).
With multiple well-known clients already trading, and dozens more in the pipeline for onboarding, MilltechFX is now expanding into Europe, having recently opened a new European subsidiary in Paris that's in the process of seeking regulatory approval.
MillTechFX has been machine-tooled from the bottom up with non-FX expert users in mind and is wholly intuitive and customisable, offering a frictionless, streamlined workflow from execution to reporting and settlement.
The company states that transparency is at the heart of each stage of the execution process by offering real-time reporting and independent transaction cost analysis (TCA) that allows customers to see the total cost of their FX execution to evidence best execution.
Eric Huttman, CEO of MillTechFX, said, "Until now, the operational burden, cost and complexity associated with multi-bank FX access was too great for most asset managers, corporates and institutions. MillTechFX is a complete game changer for these firms as it's the first time they have been provided with this level of access through a single platform. We, at minimum, seek to cut our clients' FX execution costs in half and feedback so far has been overwhelmingly positive. As a firm with global ambitions, we look forward to extending the benefits of our marketplace to European corporates and asset managers."
Sir Ronald Cohen said, "For too long, the best FX rates have been reserved for firms with the most resources, leaving mid-sized asset managers and corporates to overpay for FX execution. MillTechFX's new, independent platform makes the best bank FX rates available to all."
Millennium Global Investments information: AuM refers to the USD 20.7 billion notional amount managed as of 30th April 2021. FX volume shown is an average of years ending 2018/19/20.
Source: https://www.imf.org/en/Publications/WP/Issues/2019/05/07/Discriminatory-Pricing-of-Over-the-Counter-Derivatives-46686
LiquidityFinder
LiquidityFinder was created to take the friction out of the process of sourcing Business to Business (B2B) liquidity; to become the central reference point for liquidity in OTC electronic markets, and the means to access them. Our mission is to provide streamlined modern solutions and share valuable insight and knowledge that benefit our users.

If you would like to contribute to our website or wish to contact us, please click here or you can email us directly at press@liquidityfinder.com.