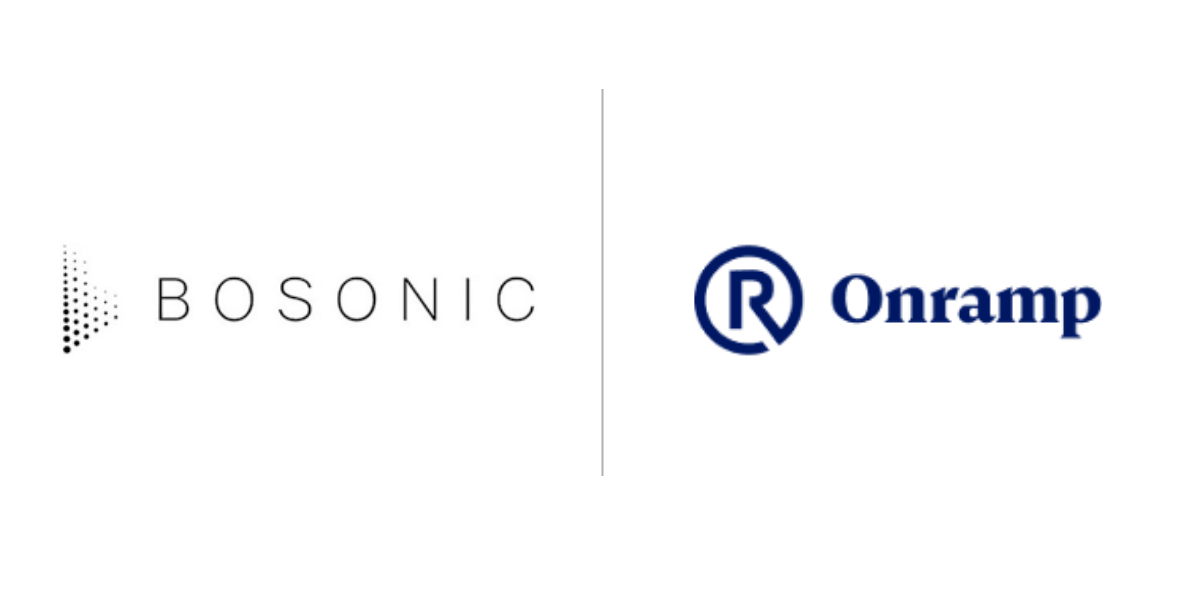 Onramp Joins the Bosonic Network
September 02, 2022 - Bosonic, a decentralized Financial Market Infrastructure (dFMI) business, announces that Onramp Invest, a crypto management solution providing access to crypto assets for registered investment advisors, will join the Bosonic Network™. This addition to Bosonic's institutional client base supports the Wealth segment.
The Bosonic Network connects institutional clients to Digital Asset Custodians and Liquidity Partners, enabling secure access to the digital assets markets through layer-2 blockchain for payment.
Onramp Invest provides a platform for financial advisors to help their clients invest in digital assets. By joining the Bosonic Network's, Onramp can now provide its advisors and their end clients with access to the prices and security facilities.
Eric Ervin, CEO, Onramp Invest said: "With recent market volatility highlighting the issues with both bilateral risk and asset safety, we are delighted to join the respected Bosonic Network and provide our Advisors and their clients with specialist infrastructure delivering asset safety with zero counterparty credit and settlement risk. As we continue to build and scale our business, we constantly search for the best way to deliver first-rate liquidity and market access, thus ensuring our clients obtain the best prices at all times."
Jason Nabi, Bosonic's Chief Revenue Officer commented: "Onramp are at the forefront of enabling wider access and opportunity for Advisors and their clients to invest in the long-term benefits of crypto assets. Bosonic is pleased to support their growth and provide infrastructure that enables asset safety, elimination of counterparty credit and settlement risk and real tradeable liquidity without any conflict or compromise."
He added, "The wealth segment is a key priority for Bosonic. We are seeing a large number of Family Offices, Private Banks and Advisor Platforms move to Bosonic, not only because of our model and capability, but also because we do not compete with them in their own market, unlike other crypto service providers."
LiquidityFinder
LiquidityFinder was created to take the friction out of the process of sourcing Business to Business (B2B) liquidity; to become the central reference point for liquidity in OTC electronic markets, and the means to access them. Our mission is to provide streamlined modern solutions and share valuable insight and knowledge that benefit our users.

If you would like to contribute to our website or wish to contact us, please click here or you can email us directly at press@liquidityfinder.com.