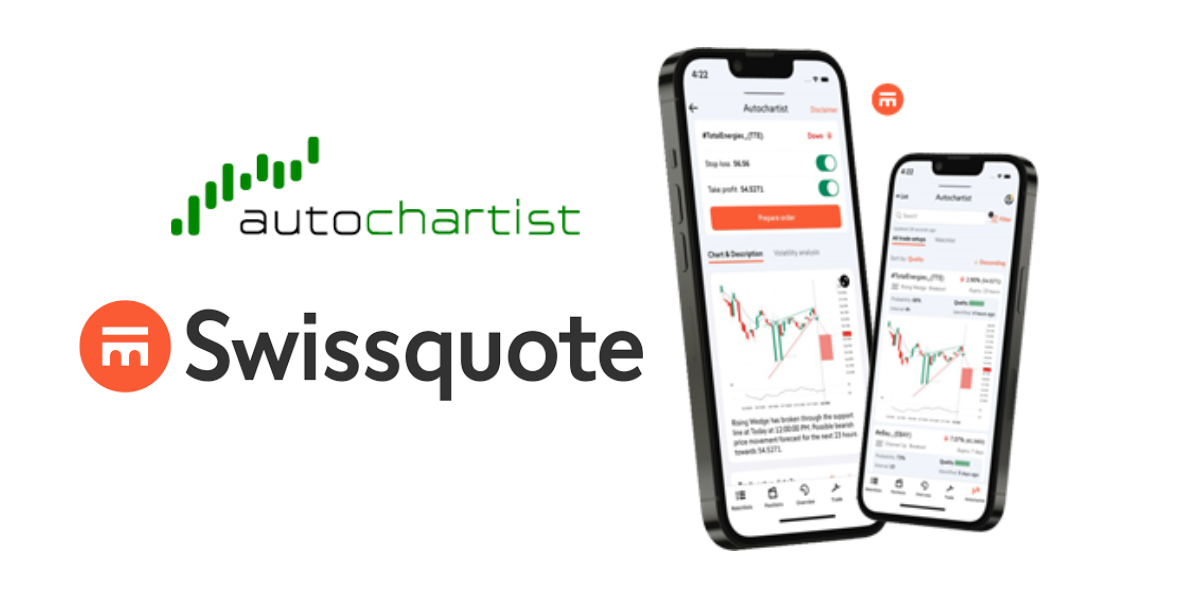 Swissquote and Autochartist Unveil Advanced Technical Analysis Integration
Swissquote Bank
|
Aug 16, 2023
August 16, 2023 - Autochartist and Swissquote have recently embarked on an impressive collaboration in which Autochartist's Advanced Technical Analysis has been deeply integrated into their proprietary trading platform, "Advanced Trader". This integration creates an intuitive experience for their extensive client base of global CFD traders.
One of the standout features of this integration is the ability to execute trades directly from the watch list.
For example, if a trader decides to trade gold, they can select from the various trade opportunities presented, and place an order, setting their take profit and stop loss.
The Swissquote platform features several watch list add-ons, including 'top picks', 'quick trade', and user-customizable options. It offers a 'trade setups' column as a default feature, showcasing potential technical trade setups for various instruments, making it easy for traders to identify potential opportunities at a glance.
In addition to the watch lists, Swissquote also integrated Autochartist into a market screener equipped with several unique features. Traders can focus on specific instruments from their personalised watch list, select which patterns they want to see, and even set probabilities for different assets, significantly reducing the vast array of trading opportunities to those that align with their strategies.
Traders can now access powerful, precise, and customisable features through the intuitive user interface, offering an unparalleled trading experience. "This integration has not only streamlined the trading experience but also made sophisticated technical analysis tools accessible to all traders using their "Advanced Trader" platform. A superb integration by Swissquote's technology team," says Ilan Azbel, CEO at Autochartist.
LiquidityFinder
LiquidityFinder was created to take the friction out of the process of sourcing Business to Business (B2B) liquidity; to become the central reference point for liquidity in OTC electronic markets, and the means to access them. Our mission is to provide streamlined modern solutions and share valuable insight and knowledge that benefit our users.

If you would like to contribute to our website or wish to contact us, please click here or you can email us directly at press@liquidityfinder.com.