The most exciting capital markets technology start-up in Europe - Ediphy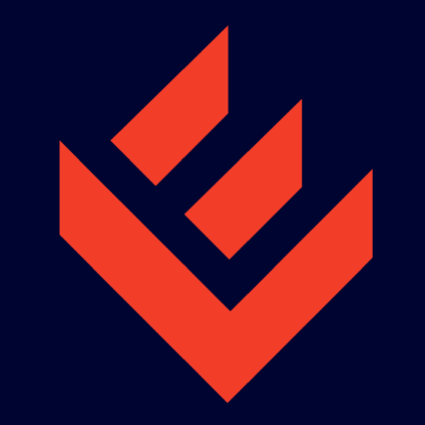 Ediphy - Sam Low - LiquidityFinder
|
Apr 6, 2023
Sam Low from LiquidityFinder recently sat down with Magnus Mathisen, Head of Sales at Fixed Income technology firm Ediphy, to understand more about the company's Fixed Income execution services for buyside firms, and why this could be 'the most exciting capital markets start-up in Europe'.
Ediphy is an FCA-authorised firm headquartered in London, serving clients globally. Ediphy was founded by Chris Murphy, ex-Global Head of FICC at UBS, and Daniel Wild, ex-UBS, ION and Goldman Sachs e-Trading technologist.
April 06, 2023
Sam Low (SL), LiquidityFinder: Magnus Mathisen is the Head of Sales at capital markets technology start-up Ediphy. Thank you for speaking with us today about Ediphy. Ediphy is "digitising capital markets". Please can you elaborate on what is Ediphy?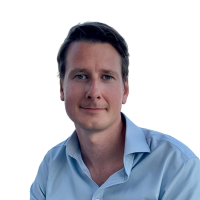 Magnus Mathisen (MM), Head of Sales, Ediphy: At Ediphy's core is a commitment to simplifying the incidental complexities of the fixed income markets, enabling buy-sides to fully focus on portfolio objectives. A major part of this is our fixed income execution service, which combines wide liquidity access with our AI SOR to give the best possible execution outcomes. Our proprietary real-time tech platform is what makes it all possible.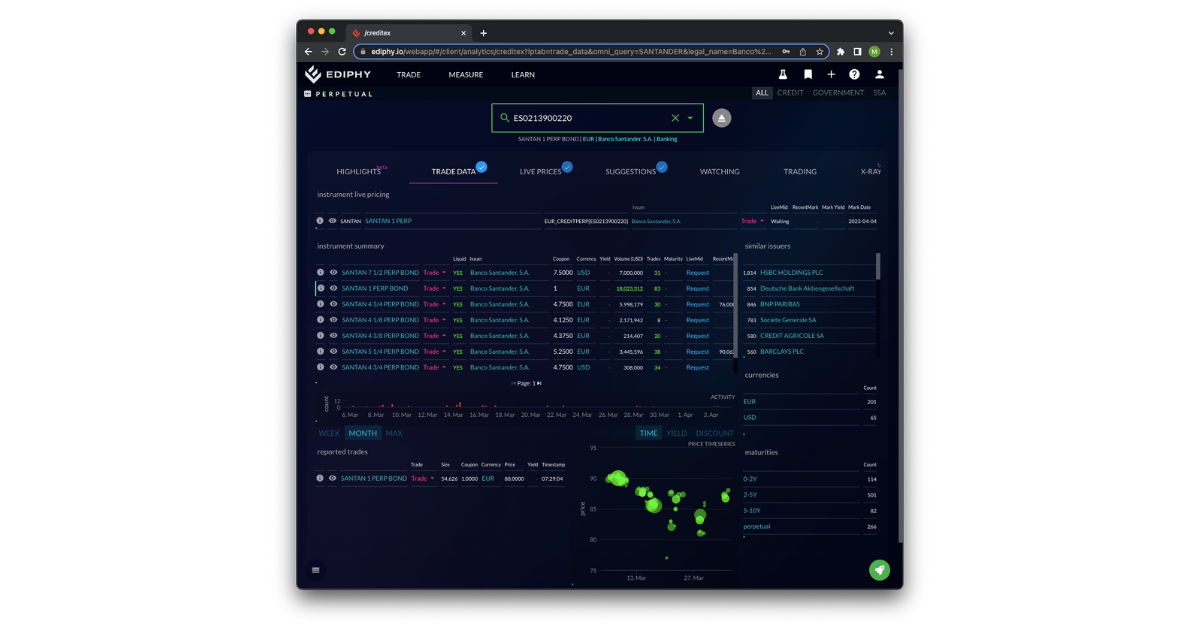 Ediphy's solutions are browser-accessed. Pictured here is the MiFID trade data explorer
SL: The Fixed Income market is perhaps the most fragmented sector of the financial markets. Most trading is Over The Counter (OTC) between multiple counterparties with their own inventory. Some of the inventory is highly illiquid. Unlike the FX market, Liquidity is not dependent on the dozen or so major market makers offering 24 hour Executable Streraming prices. Is this the correct understanding of the market you operate in?
MM: If only fixed income traded more like FX! There are several reasons why fixed income is characteristically "less liquid" than FX. The decentralised and bilateral nature of trading, overwhelming instrument variety and ever diminishing dealer inventory. There is however hope; buy-side driven trading protocols, increased market transparency via MiFID II and the dawn of parameterised execution that frees investors from "ISIN tunnel-vision" - are all a step in the right direction. 
SL: How does working with Ediphy solve this problem of fragmentation? 
MM: Ediphy provides a single entry-point to fixed income markets, all through our cutting-edge web application. Just log in, leave us an order and our AI smart order machine and experienced execution desk do the rest. We endeavour to connect into all relevant liquidity end-points; dealers, venues, platforms - and source the best possible price for clients. Best of all, there is no expensive enterprise software to install, just onboard and log-in.
SL: So does this mean that the relationship a client has is only with Ediphy, or do they have to have a credit limit with each counterparty they trade with?
MM: Exactly, we operate a matched principal model hence clients only ever need to onboard Ediphy. This is especially helpful in the current landscape where clients may face off-boarding by dealers, and new fixed income trading protocols keep emerging. Clients can trust that we will remain on top of any developments in market structure and keep them connected.
SL: What can clients trade with Ediphy at present?
MM: Right now our coverage is global credit and government bonds, and cleared IRS - in USD, EUR and GBP. Further currencies, asset classes and trading strategies are right around the corner.
SL: Is trading anonymous (like a dark-pool), or are names given up pre- or post-trade?
MM: Trading is anonymous by default, but if desired by the client we can give-up their name in order not to dilute existing dealer relationships.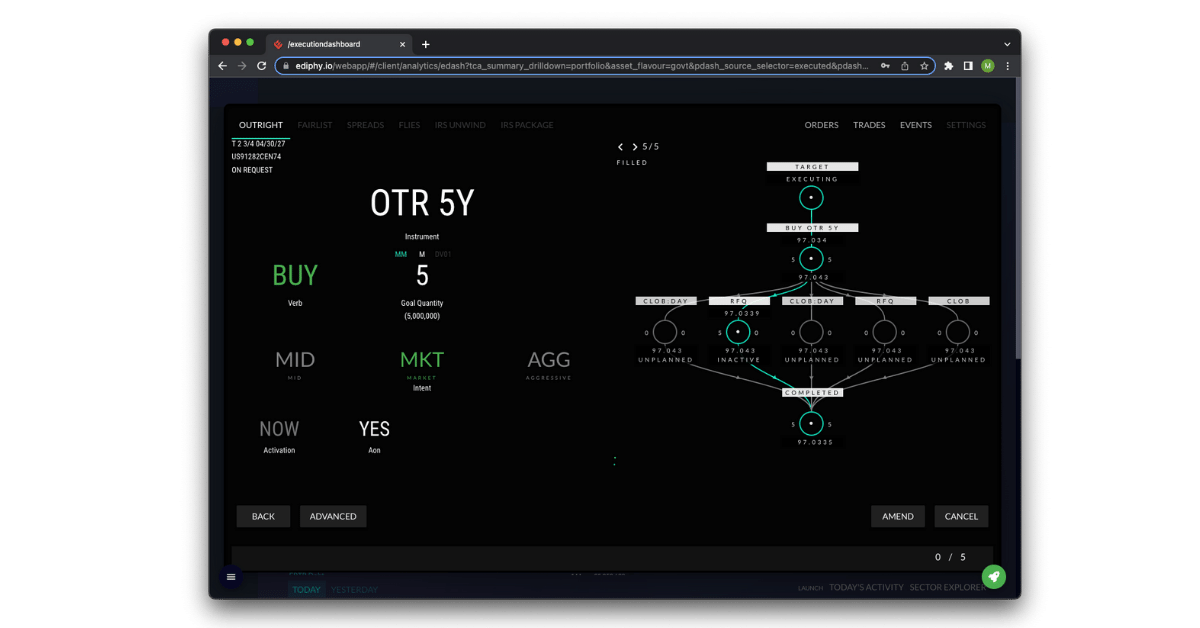 Ediphy's execution cockpit provides real-time transparency and control of resting orders
SL: Is it possible to trade in credit instruments 24 hours covering all regions?
MM: Hopefully soon! Fixed income liquidity remains highly temporal and region dependent, which requires great care when executing. Our SOR seeks to optimise for this at all times, so while you cannot reasonably expect to execute a US HY bond during Asia-hours, our clients can at least leave the order with us and trust that we will execute at the best possible moment.
SL: Does the platform carry streaming prices?
MM: Streaming prices is a very interesting and emerging topic in fixed income trading, and that's all I want to say on this topic for now! We encourage any clients or market makers interested in this topic to get in touch with us.
SL: I understand that there is no software to install, with everything being cloud based. So what is the process to becoming a client and what is the commercial model? Is it license fee, commission based or a combination?
MM: Our priority is to make the onboarding experience as light-weight as possible, and our web application is an integral part of that strategy. We want to challenge the buy-vs-build convention in capital markets technology, proposing instead clients to simply use. This is reflected in our commercial model as well, which means no set-up or ongoing fees. Only a very moderate spread on trading, that should be covered by the price improvement our clients see. If we cannot provide net better execution, we wouldn't have a business.
SL: You're hinting that the execution service is just part of the offering, what else is there?
MM: Our clients also get access to a host of unique pre-trade analytics, like relative value tools, liquidity analytics and alternative bond suggestions. Our focus lately has been on bringing out a lot of highly powerful tools underpinned by real trade data, and client feedback so far has been tremendous. 
SL: Ediphy is leading the charge for the European Consolidated Tape (CT). What is the purpose of the Consolidated Tape and why is Ediphy able to be considered as the front-runner to be able to supply this?
MM: We have a deep commitment to fairer, more transparent and efficient markets here at Ediphy, and our efforts for the European Consolidated Tape is a manifestation of this. The European CT will pull together all MiFID trade reporting data, currently distributed across several hundred APAs [i], into a single comprehensive public tape. This will revolutionise market transparency, price confidence and is in turn likely to contribute to better liquidity and a fairer playing-field in fixed income.
We believe the markets deserve a CT operator who fully appreciates the technical challenges presented by the CT, and who's committed to offering it to all market participants as a utility. We have already built the necessary technology and we are running a prototype tape internally. In sum, Ediphy's unparalleled market structure knowledge, combined with our cutting-edge data-model and technology makes us the top choice to operate the CT.   
SL: When do you see a decision being made?
MM: It's an iterative and developing decision process, but we hope to see the EU Council, EU Parliament and EU Commission anoint a CT operator early next year.
SL: Does Ediphy have plans to enter into other markets other than Fixed income?
MM: Our technology, business model and market knowledge all lends itself very well to other asset classes than fixed income too. Watch this space.
SL: Very interesting Magnus. Thank you for sharing some insights with us into what's happening at Ediphy - a lot of interesting developments in the pipeline. Good luck with the projects you are engaged with, especially the CT. 
To wrap up, please can you summarise the top 3 reasons why the community at LiquidityFinder should be following Ediphy on the site: 
MM: Great to chat with you Sam, I'd say follow us to keep up with

1) the future of fixed income execution and analytics
2) developments around the European Consolidated Tape
3) our journey as the most exciting capital markets technology start-up in Europe!
To follow Ediphy on LiquidityFinder, go here and press FOLLOW!
[i] APAs - Approved Publication Arrangement - a person authorised under the provisions established in the MIFID II Directive to provide the service of publishing trade reports on behalf of investment firms (Article (4)(1)(52) MiFID II)
LiquidityFinder
LiquidityFinder was created to take the friction out of the process of sourcing Business to Business (B2B) liquidity; to become the central reference point for liquidity in OTC electronic markets, and the means to access them. Our mission is to provide streamlined modern solutions and share valuable insight and knowledge that benefit our users.

If you would like to contribute to our website or wish to contact us, please click here or you can email us directly at press@liquidityfinder.com.