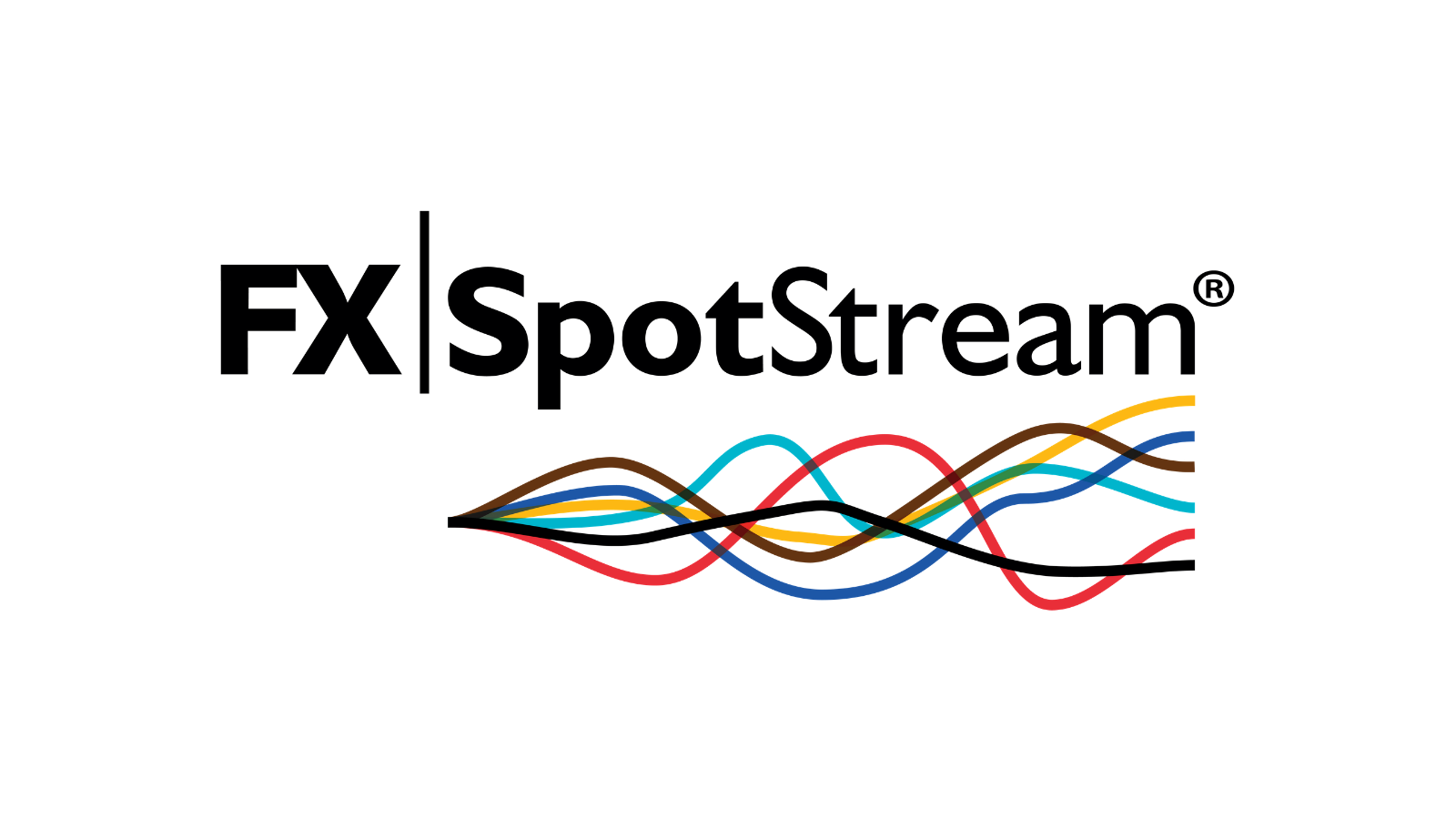 FXSpotStream
Aggregator
Verified Provider
Launched in December 2011, FXSpotStream® eliminates the costs of execution for price takers and offers banks and clients the ability to interact bilaterally and in a fully transparent manner. Banks connected to FXSpotStream serve as Liquidity Providers to clients. Clients can access a GUI or single API from co-location sites in New York, London and Tokyo and can communicate with all Liquidity Providing banks connected to FXSpotStream. FXSpotStream also offers access to all of the Algos of the FXSpotStream liquidity providers over both its API and GUI, and supports pre- and post-trade Allocations.
Top
Features & Highlights
15 Tier-1 Liquidity Providers via 1 API
Fully disclosed trading via GUI or API
Algo support for 70+ native bank algos with 200+ parameters
FX Allocations support pre-/post trade
Support for FX Spot, Forwards, Swaps, NDFs, NDS, Metals Spot and Swaps
All of the Algos of the FXSpotStream liquidity providers accessible over both its API and GUI,
Key
Data & Tradable Assets
FXSpotStream has revolutionized the FX trading landscape by eliminating on its core streaming offering, the cost of execution for price takers and allowing price makers the ability to pay a flat fee for providing prices to their clients.
We are the only venue on the market today with this unique commercial model. 
A CLIENT IS ABLE TO:
Reduce the number of physical connections associated with writing to and maintaining multiple APIs or accessing up to 15 banks on one screen
Reduce the human capital cost
Reduce the time to market
Preserve the bank to client bilateral relationship with price streams tailored specifically for the client
Improve performance depending on the existing connectivity
Top Feature
ACCESS TO LIQUIDITY FROM UP TO 15 TIER 1 LIQUIDITY PROVIDING BANKS
15 TIER 1 LIQUIDITY PROVIDERS STREAMING PRICING TO CLIENTS THROUGH FSS, INCLUDING BANK OF AMERICA, BARCLAYS, BNP PARIBAS, CITI, COMMERZBANK, CREDIT SUISSE, GOLDMAN SACHS, HSBC, J.P.MORGAN, MORGAN STANLEY, MUFG, SOCIETE GENERALE, STANDARD CHARTERED, STATE STREET AND UBS.
Top Feature
FXSPOTSTREAM IS A MARKET UTILITY, CREATED TO REDUCE THE COSTS OF TRADING FX
CLIENTS PAY NOTHING TO ACCESS LIQUIDITY FROM UP TO 15 TIER 1 LIQUIDITY PROVIDING (LPS) BANKS VIA A SINGLE API OR GUI FROM SITES IN LONDON, NEW YORK, AND TOKYO. LPS ARE CHARGED A FLAT FEE TO TRADE AN UNLIMITED AMOUNT OF VOLUME, RESULTING IN THE LPS PAYING LESS ON A PER MILLION BASIS AS THEIR VOLUME GROWS; THUS, CLIENTS CAN EXPECT BETTER PRICING.
Top Feature
ABILITY TO TRADE SPOT, FWD, SWAPS, NDF/NDS, PRECIOUS METALS SPOT AND SWAPS
FXSPOTSTREAM SUPPORTS THE MOST PRODUCTS ON A DISCLOSED BASIS OF ANY SERVICE, INCLUDING FX SPOT, FX SWAPS, FORWARDS, NDF/NDS AND PRECIOUS METAL SPOT AND SWAPS TRADING. AND, AS A FULLY DISCLOSED SERVICE, LPS HAVE FLEXIBILITY TO PRICE CLIENTS AS THEY SEE FIT.
Data Sheet:
FXSpotStream
Updated: Aug 17th 2023
All information is provided for general information purposes only. It does not claim to be or constitute legal or other professional advice and cannot be relied upon as such. Please refer to the Terms of Service & Privacy Policies of LiquidityFinder and FXSpotStream for more details.
Min. Capital Requirements:
$ undefined USD
Min. Client Collateral Requirements:
$ undefined USD
Min. Balance Requirements:
$ undefined USD
Min. Balance Sheet Requirements:
$ undefined USD
CCY Min. Ticket Size:
$ undefined USD
CCY Max. Ticket Size:
$ undefined USD
Min. Spread 1M EUR/USD:
$ undefined USD
Min. Spread 1M GBP/USD:
$ undefined USD
Min. Spread 1K oz Gold XAU/USD:
$ undefined USD
Min. Spread 1 BTC/USD:
$ undefined USD
Accepts Retail Clients:
N/A
Segregated Account for Funds:
N/A
Passive/Aggressive Orders:
N/A
Single NOP Limit across Venue:
N/A
Centralized Clearing:
N/A
Overnight Rollover Charges:
N/A
Margin Offered FX Majors:
N/A
Margin Offered FX Emerging Markets:
N/A
Margin Offered Precious Metals:
N/A
Tier 1 Bank Prime Brokers Used:
N/A
Risk Management Offered:
N/A
Negative Balance Guaranteee:
N/A
Asset Management Incubation:
N/A
Adheres to FX Global Code:
N/A
FX | Insights

FXSpotStream's analytics suite, FX|Insights, delivers real-time data to its clients and Liquidity Providers to meet the business challenges and demands of trading FX and Precious Metals. The continued focus on transparency and interest in managing the entire life cycle of an order have been key drivers in the development of FX|InsightsSM.
Our powerful visual analytics tool provides you with valuable insights to help you manage your orders more effectively. You are able to utilize the data to identify and often pre-empt trading issues that may occur. Access to real-time data helps you investigate and resolve issues more quickly and efficiently.
Benefits:

- Helps you accurately record and monitor transparency in pricing and support best execution requirements
- Allows you to track statistics relating to the life cycle of an order from initial price to order confirmation
- Helps you benchmark performance over time by monitoring historical data reports
- Real-time dashboards across a number of data-sets including order latency, rejections and fill ratios
- Monitor post-trade impact in near real-time with enhanced Decay Analysis Report
- Helps you evaluate the spreads across your liquidity providers
Features:

- Pre-defined reports available with each one composed of multiple graphical views
- Multiple view types available: pie chart, bar chart, line chart or table
- Filters can be applied across all data sets including selecting date and time ranges
- Historical trading records
- Ability to download data in simple CSV files
- Zoom in/out feature for bar and line charts
- Access FX|InsightsSM GUI from your browser without any need to download software onto a local PC/network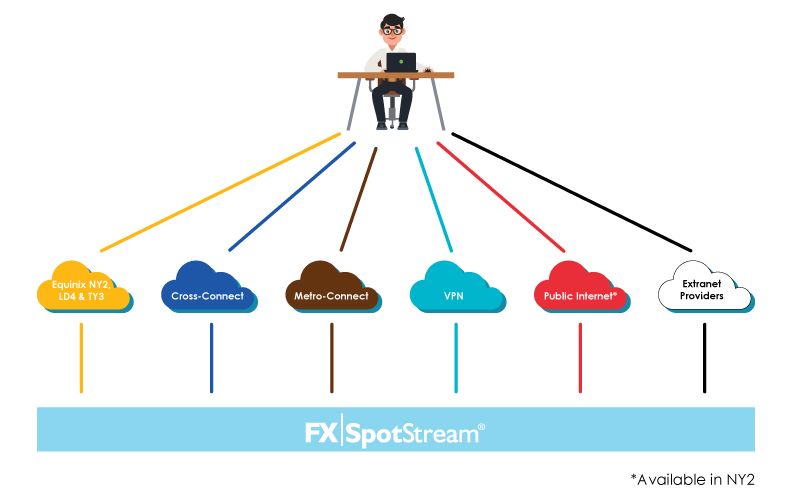 API Options 
Clients can interact bilaterally with Liquidity Providers in three ways:
Full Amount – Best bid/ask for full amount
Pass through – Fully disclosed, depth of book
Limit Orders
One or both limit orders options can be selected
Pass through mode supports order and quote based price streams
Both Executable Streaming Prices (ESP) and Request for Streams (RFS) available
Price streams are fully configurable and dedicated limit order functionality is available
No size or currency pair limitations
Connected to various STP providers for post-trade notifications
Connectivity Options
Clients can connect to the FXSpotStream® Service in multiple ways:
Cross-Connect – Clients located in Equinix facilities are able to connect to the Service via a 1g or 10g cross-connect
Metro Connect
Extranet – connectivity is available through various extranet providers
VPN
Public Internet – Clients connecting to the NY2 site can connect through the Public Internet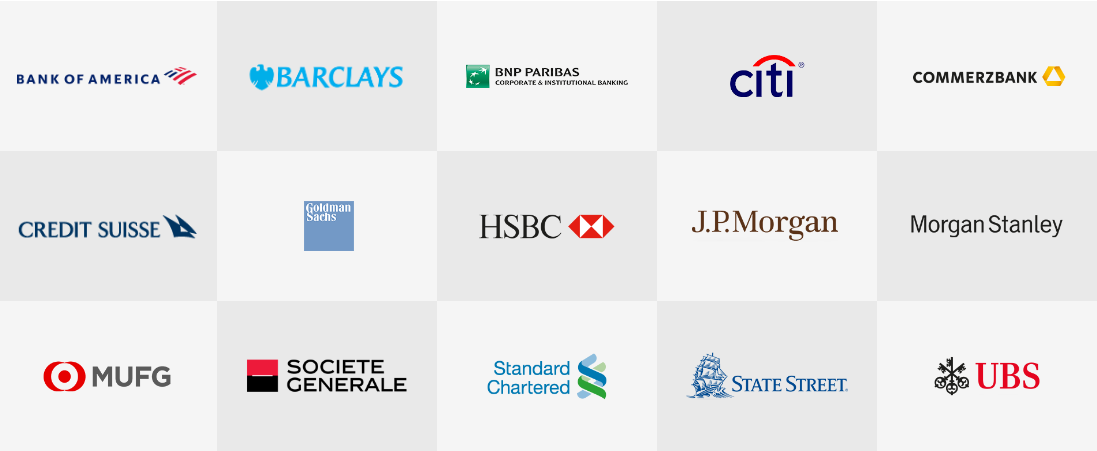 FXSpotStream will support all currency pairs that our Liquidity Providers will Stream

NDF and NDS – Non-Deliverable Forwards (NDFs) and Non-Deliverable Swaps (NDS) differ from regular forward and swap products in that the underlying currencies are not exchanged, instead the trades are cash settled in the primary currency, typically USD, although other currencies are sometimes used as well.
FXSpotStream is one of the few services that allows clients fully disclosed NDF and NDS streaming of prices. Clients have the option of accessing both NDF and NDS products via one or both of the execution types available on FSS (Streaming and/or RFS) for standard tenors as well as broken dates with FXSpotStream's 15 Liquidity Providers.
A wide range of NDF/NDS currency pairs are already supported on the Service, typically Asian and South American currency pairs. However, with FSS technically able to support any currency pair that our LPs support, we welcome inquiries about additional pairs. The sales team at FXSpotStream is available to discuss specific requirements and how we can help enhance your NDF/NDS trading experience.
ACCESS THE ENTIRE ALGO SUITE OF THE FSS LPS VIA A SINGLE API AND OVER THE GUI
70+ Algos, 200+ Parameters
API Access
GUI Access Available
Connect Once
Never Charged a Fee By FSS
Access to Banks Analytics Tools
Support for both Spot and NDF Algos
Support for Benchmark Fixings and Resting Orders
CLIENTS WILL NOT BE CHARGED A FEE BY FSS
FSS does not charge clients a fee to access the Algos or use Allocations of any of its LPs. Any fee an LP may charge for access to their Algos or Allocations functionality will be handled directly with the LP
ASSIGN PRE- AND/OR POST-TRADE ALLOCATIONS
Support for Pre-Trade Allocations in both RFS and ESP Protocol. Post-Trade Allocations are limited to those clients pre-approved by their LPs
Allocations can either be implemented by the client or through an OMS or third-party vendor
NO ADDITIONAL NETWORK INFRASTRUCTURE OR CONNECTIVITY REQUIRED
Clients seeking to access the Algos of the FSS LPs do not need to add any additional network infrastructure, connecting in the same way as they do today - accessing a normalized API or GUI through a single FIX connection that provides access to the Algos offered by multiple LPs
Dedicated regional support is available from the open of the Service and following the close of the Service. Regional support available from within the US, Europe and Asia, including a local Tokyo support staff fluent in Japanese
FXSpotStream
Corporate
Info
Provider Type: Aggregator
111 Town Square Place, Suite 840, Jersey City, NJ 07310, USA +1 201 217 8075
Main HQ Region: northAmerica
Other HQ Locations: Click To View
Best FX Trading & Multi Bank Platform - 2022
Executive Global
Best Margin FX ECN/Multi-Bank Platform - 2022
J-Money Survey
Best G10 Trading Platform - 2022
FX-Markets Asia Awards
Best Buyside Trading Platform - 2022
FX-Markets Asia Awards
Alan Schwarz
Co-Founder, CEO